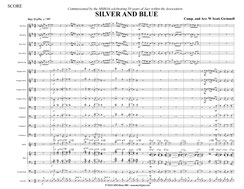 If you're at the Michigan Music Confrence, come to the Ambassador Ballroom at the Amway Hotel on Saturday at 2:30pm to hear the premiere of my commissioned composition, Silver and Blue. I was asked to compose it for the MSBOA (Michigan School Band and Orchestra Association) in commemoration of their 50th anniversary. I'm excited to hear it played by the Grand Rapids Jazz Orchestra. Hope to see you there!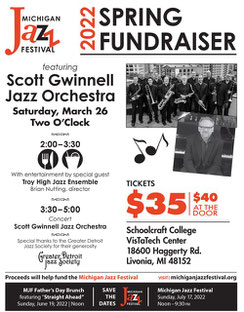 You can hear my group and support the Michigan Jazz Festival by attending on March 26th at 2pm. There will be hors d'oeuvres and drinks served with entertainment from the Troy Jazz Ensemble. The SGJO will follow. Get tickets here!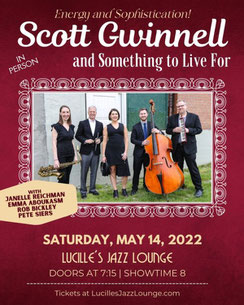 "Something to Live For" will be playing both Strayhorn music and songs from our cinema series. Doors open at 7:15 and showtime is at 8pm. Get tickets at their website.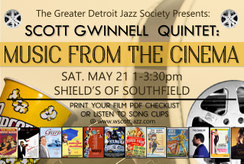 The Scott Gwinnell Quintet will be performing music from the cinema at Shield's of Southfield on Saturday, May 21 from 1-3:30pm. Cover is $10 and presented by Greater Detroit Jazz Society.
Scott Gwinnell- piano
Janelle Reichman- saxophone
Emma Aboukasm- voice
Rob Bickley- bass
Pete Siers- drums
Download your film-watching PDF checklist to prepare for this event!
Checklist of Films to prepare for Performance
Music of the Cinema.pdf
Adobe Acrobat Document
831.2 KB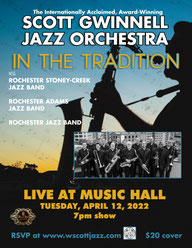 The Scott Gwinnell Jazz Orchestra will play on the main stage at Music Hall in a special "In the Tradition" event with all three Rochester schools. Rochester Stoney-Creek High School will even be premiering a commissioned composition from a Post-Modern Jukebox composer. This promises to be a special event for all. This event is on Tuesday, April 12 at 7pm. There is a $20 door cover.
Congratulations to the very talented high school jazz band of Valley Christian in California. They used their pandemic to record a virtual performance of my chart on Brush Fire. This chart is usually played by professional or college groups. Watch their performance!
Both available for purchase are the CD, "Brush Fire" by the Scott Gwinnell Jazz Orchestra, and the big band chart. Visit my product page for more information.
My new SSAA arrangement of Afro-Blue was recently performed virtually by the Oakland Jazz Singers of Oakland University. Special thanks to guest artists, violinist Regina Carter and trumpeter Tim Blackmon for participating.
This is SSAA chart is not currently listed on the website, but available for purchase by request. Email me for more info.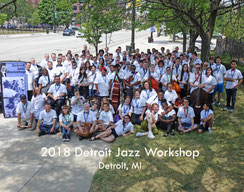 After taking a pandemic hiatus in 2021, the Detroit Jazz Workshop plans on resuming with it's 13th season of providing jazz education to all musicians of the community, no matter their experience level, instrument, or age. Registration begins in January 2022. See more at www.helpwithjazz.com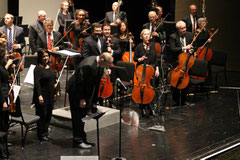 The SGJO collaborated with Warren Symphony Orchestra to play some of my work and I couldn't have been happier with the results. Please click on the titles below to see video clips.
Scott Gwinnell Jazz Orchestra with the Motor Symphony Orchestra
Paul Finkbeiner- trumpet
SGJO with MCSO and Sheryl Martin, vocals
SGJO and MCJO
Mark Byerly, Keith Kaminski, and Scott Kretzer- soloists
The Scott Gwinnell Jazz Orchestra partnered with John Clayton and his quintet in premiering Clayton's original composition, "T.H.E. Detroit". This 45 minute concerto grosso suite was the closing act of the Detroit Jazz Festival. It was a blast,  showing off the talents of both Clayton and the talent of the musicians performing his composition/arrangement. The clip above is apart of "H.", the middle movement, featuring John's son, Gerald Clayton. This event was truly a showstopper!